Solar Panel Monitoring
Solar Panel Monitoring
As a key component of distributed energy generation systems, solar energy is gaining traction with home owners, utilities and electrical integrators. Solar allows homeowners and consumers to become producers in the electrical distribution network, creating revenue for them and reducing strain on aging electrical power grids. However, these solar panels create new challenges for system integrators and manufacturers: how do you track the energy being produced by these solar panels and refund consumers for the energy they produce?


With years of experience in communication for electric power systems, Yifan proposed a cellular solution for telemetry to thousands of remote sites. Cellular can be installed quickly and with lower installation costs than traditional land-lines because it does not require laying any fibre-optic cables. Laying fibre-optic cables requires excavation, a time-consuming and costly process. Yifan 3G cellular solutions is optimal for widely distributed solar panel networks.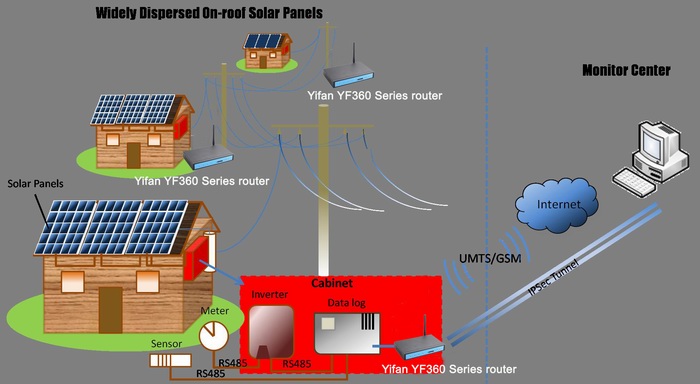 In the project, there are many solar installations located in various neighborhoods in an urban area. On each solar installation, three large panels are mounted to a roof for gathering solar energy. The panel converts this solar energy into electrical power and then stores it into a battery on the premises. The energy is converted into AC power, and if any energy remains after powering the residence, it will be transferred to the distribution grid with AC power.
Each inverter has a control board with many interfaces. The control board logs the energy produced and reads data from sensors such as the panel temperature and current flows. The control board transmits the data to YF360 series router with its RS-485 port, and theYF360 transfers the data to a data-center on an UMTS cellular connection. UMTS is not limited by cable layouts, is completely mobile and unconstrained by line-of-sight and geographical limits.
The YF360 series builds a high security IPSec tunnel between field site and monitoring center. In order for the homeowner to understand how much energy their panel is producing, the energy utility hosted a website demonstrating the power generation and the efficiency of the panels. The customer could simply log into a website and check the status of their solar panels with information available in the form of logs, charts and graphs.
Yifan YF360 series fully meets the requirements for telemetry of dispersed roof-top solar panels.
1. Yifan YF360 series are ruggedized for harsh outdoor environments:
· Wide operating temperature:-35-75 °C, 95% Relative Humidity
· Specially designed for power system, with high electromagnetic interference Immunity
· Power Supply: 5-36 VDC
2. VPN Support (PPTP/L2TP/ IPSec /GRE/OPENVPN) provides a high-security tunnel for UP/DOWN data flows.